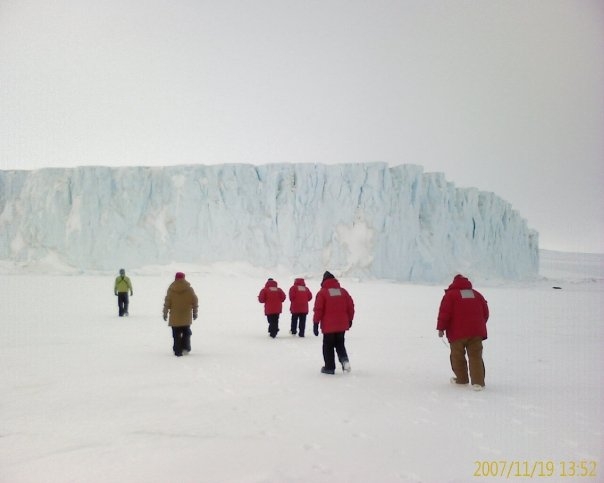 The science station called McMurdo has been operating on the southern tip of the continent since 1956. Itís an important research center, attracting geologists, physicists, engineers, hydrologists, pilots, and just plain adventure-seekers. McMurdo Station has grown so much, in fact, that itís really a town unto itself. Itís got a harbor, three airfields, a heliport, over a hundred buildings, and a bowling alley. After all, if people are going to work in such a bleak outpost, they need some recreation! About a thousand people work at McMurdo in the summer -- 200 in the dead of winter -- and the scientists depend on the non-scientists to keep the place humming. SOUNDPRINT went to McMurdo as part of the International Polar Year Media Collaboration Pole to Pole to cover a scientific project. While we were there, we met the diverse and colorful group of people who constitute LIFE AT MCMURDO.
Life at McMurdo airs as part of Pole to Pole, an international media celebration of the 2007-2009 International Polar Year, produced with support from the National Science Foundation, the Australian Broadcasting Corporation, the British Broadcasting Corporation, Deutsche Welle Radio, Radio New Zealand, and the SOUNDPRINT Media Center, INC.


Links:
The Antarctic Sun


Funded by the National Science Foundation, this online newspaper's contents is based on the Antarctic community, research updates and scientific findings.

McMurdo Webcam
Want to see what the weather is like right now at the McMurdo station? The station has a webcam setup for everyone to see.

International Polar Year
This site is dedicated to the use of cutting edge science to explore and interprete the wide range of the physical and biological issues of the Arctic and Antarctic.

Pole to Pole Gallery
A gallery showing different ĎPole to Poleí research sites.

Books:

The Worst Journey in the World
by: Apsley Cherry-Garrard 2006
Cherry-Garrard, part of the Robet Scott's doomed expedition team, recounts the horrible and unbearbale environment he faced in South Pole.
On the Ice: An Intimate Portrait of Life at McMurdo Station, Antarctica
by: Gretchen Legler 2005
Sent to document life at McMurdo station in the Antarctic, Legler observes and experiences life at the bottom of the earth.