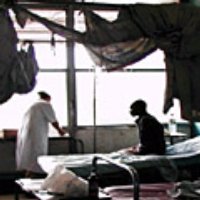 In the Children's Block of the Korle-Bu Teaching Hospital in Ghana's capital, Accra, the dedicated staff struggle to do their best for their young patients. It's a tough and stressful job. They face a lack of equipment, staff shortages, and patients who are often unable to pay for medical care. Ghana's current health system requires that all medical bills must be paid before the patient leaves the hospital; hospitals actually employ security guards to make sure no one leaves without paying their bills. But now the Ghanaian government is introducing a health insurance scheme, to make health care more affordable for all the country's citizens. Joy FM's Akwasi Sarpong speaks with Korle-Bu's staff and patients about the challenges facing them and the future prospects for change. This program is part of our special international collaboration, Global Perspectives: Check-up on World Health.
Korle-Bu Hospital was produced by radio station Joy-FM in Accra, Ghana, with reporter Akwasi Sarpong (Ah-Kwah-See-Sahr-pong). It originally aired as part of the international collaboration Global Perspectives: Checkup on World Health.


Links:
Joy FM


Ghana's Joy FM radio station is the home of Akwasi Sarpong, the narrator and producer of this program.

Ghana Web
View photos of Korle-Bu and find other links to pages about Ghana's government, economy, and other news.

Ghana Web
Read a personal account from a malaria patient at the Korle-Bu hospital.

News In Ghana
In this article, Ghana's President speaks on the state of deterioration of the Korle-Bu hospital.

Books:

Hospital: The Unseen Demands of Delivering Medical Care
by: Stephen L. Feldman (Photographer) 2002
Photographer Stephen L. Feldman exploresthe makings of hospitals around the world though this photographic essay.
Ghana
by: Ettagle Blauer, Jason Laure 1999
The geography, ecology, and history of Ghana and its people's struggle for independence.