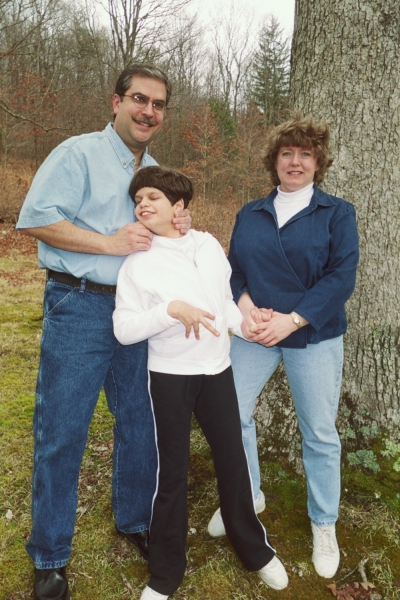 Twelve-year-old Emily lives with her mother in a small town in the mountains of West Virginia. Emily has cerebral palsy, and is one of three-quarters of a million children in the United States with developmental disabilities she has impaired hearing, very limited speech and didn't learn to walk until she went to school. Because of Emily's inability to communicate in conventional ways, educators and other professionals initially had little idea of what her mental capabilities were, nor how much she could learn. But advances in communication technology, plus the love and commitment of family, teachers, therapists and community, have meant that Emily is learning not only to communicate, but also to reach her full potential as a human being. This program is part of our ongoing series on education and technology and is funded in part by the United States Department of Education.
Educating Emily was produced by Jean Snedegar. The studio engineer was Jared Weissbrot. It originally aired as part of our series on education and technology, with support from the US Department of Education.


Links:
RJ Cooper and Associates


Learn more about RJ Cooper and the software and hardware he designs for persons with special needs.

United Cerebral Palsy
The leading non-profit organization dedicated to better understanding of cerebral palsy and increased opportunity for people with disabilities.

Cerebral Palsy Help
Legal resources for people with cerebral palsy and their families.

4 My Child
Resources and information on cerebral palsy including physician directories, and advice on education and treatment.

New Horizons for Learning
This organization dedicated to fulfilling children's diverse educational needs provides a fact sheet on assistive technologies for children with cerebral palsy on their website, as well as other helpful information.

Books:

Teaching Motor Skills to Children With Cerebral Palsy and Similar Movement Disorders: A Guide for Parents and Professionals
by: Sieglinde Martin 2006
An instructional guide to parents and teachers on how to deal with children with cerebral palsy.
The Child with Special Needs: Encouraging Intellectual and Emotional Growth
by: Stanley I. Greenspan, Robin Simon, and Serena Wieder 1998
This reference helps families participate in the education of children with developmental disabilities.
Connecting to Learn: Educational and Assistive Technology for People with Disabilities
by: Marcia J. Scherer 2003
A complete method of matching new technologies to a child's specific learning disability to help him or her feel more connected to the learning environment and to society.
From Where I Sit: Making My Way with Cerebral Palsy, Vol. 1
by: Shelley Nixon 1999
In her memoir, Shelly Nixon discusses growing up with cerebral palsy, and the difficulties her parents faced.