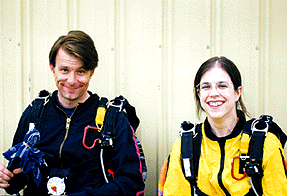 How far would you go to cure yourself of a phobia? Producer Rick Pluta has decided to jump out of a plane in order to conquer his fear of heights. But why do other people do it? Join Rick Pluta while he takes his skydiving lessons, tells his family and friends about his decision to jump, and talks to skydiving experts and fellow novices.
Skydiving was valiantly produced by Rick Pluta, who we hope will do equally foolish things in the future so that he can tell us all about it.


Links:
The Phobia List


A comprehensive directory of phobias and links for treatment.

History Skydive
The evolution of skydiving and parachuting and links to news articles, clubs and events.

Skydiving and Parachuting
Explore world skydiving organizations, fatality statistics, picture galleries and schools and coaches before you take the big jump.

Books:
Triumph over Fear
by: Jerilyn Ross
Research and first-hand accounts on how to handle fears and phobias.

Flying Without Fear
by: Duane Brown
Tips and exercises to combat the fear of flying from an aviophobic psychologist.

Parachuting: The Skydiver's Handbook
by: Mike Turoff
A skydiving manual on safety, equipment and techniques for beginners through advanced jumpers.