The Flight of the Virtual Butterfly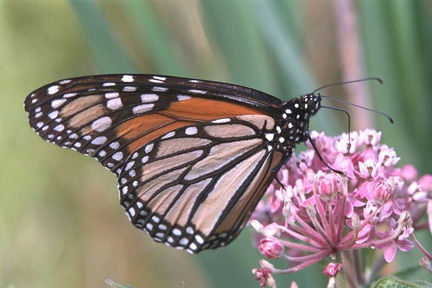 In Mexico in the early spring, millions of monarch butterflies are readying for their journey north to the eastern Rockies. This year, a group of lucky schoolteachers are witnessing the preparation. They'll take their findings home to their classrooms where students participate in an Internet-based curriculum called
The Flight of the Virtual Butterfly was produced by Peter Aronson.


Links:
Live Monarch


Purchase your own monarch butterfly in any of its life stages for personal enjoyment, special occasions and educational settings.

Journey North
Join students from across North America as they track wildlife migration.

North American Butterfly Association
Images, publications and links to promote the conservation and appreciation of butterfly species including the monarch butterfly.

Books:
A World for Butterflies: Their Lives, Behavior and Future
By Phillip J. Schappert
Understand the history, life cycle and endangerment of the butterfly in today's world.

Chasing Monarchs: Migrating with the Butterflies of Passage
By Robert Michael Pyle, Harry Foster (Editor)
Follow the journey of the amazing insect over thousands of miles of North America.

Monarch Magic!: Butterfly Activities and Nature Discoveries
By Lynn M. Rosenblatt (Photographer)
Discover the metamorphosis of the monarch from egg to caterpillar to chrysalis to emerging butterfly and enjoy related crafts and activities.